Story
Woodfire Candle Company is an artisan, woman-owned and operated, candle studio located in the heart of Esko, Minnesota. We began in 2012, pouring one candle at a time, in a kitchen at our home in Duluth, Minnesota. We gifted friends and family with our one-of-a-kind creations which turned into selling to local boutiques and shops around our area. We quickly outgrew the kitchen. Then the basement. Then the garage. We are now a team of 8, hand-pouring your candles and home fragrance in a dedicated studio by the thousands.
Our candles can now be found in all 50 states and several international locations. 
Our candles are simple and intentional in design. We only use 100% soy wax, farmed in the US. Our fragrances are phthalate-free and we don't add anything fancy or frilly. What we do add is an element of sound. All of our candles are made with wooden wicks that crackle softly as they burn, like tiny little bonfires.
Call it our Minnesota roots, but we believe burning with wood is the only way.
Come visit us at our storefront!
1 W Hwy 61
Esko, MN 55733
Hours: Tuesday - Friday 11-4 
Saturday 10-3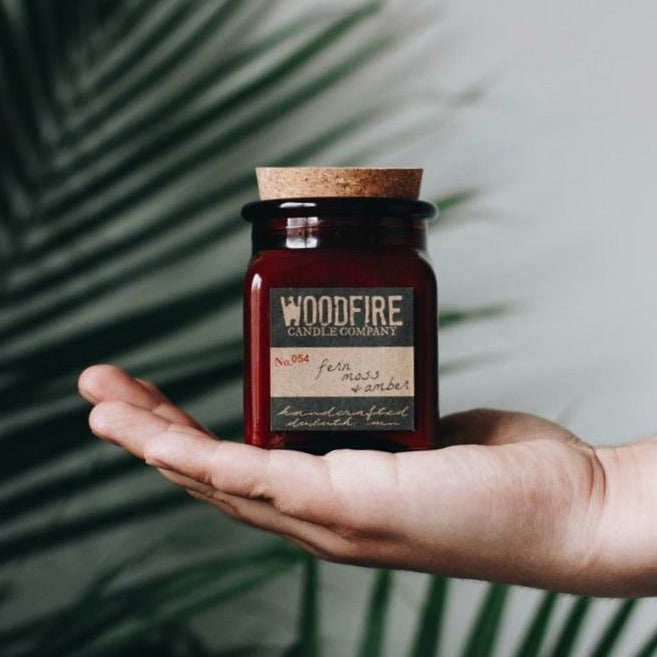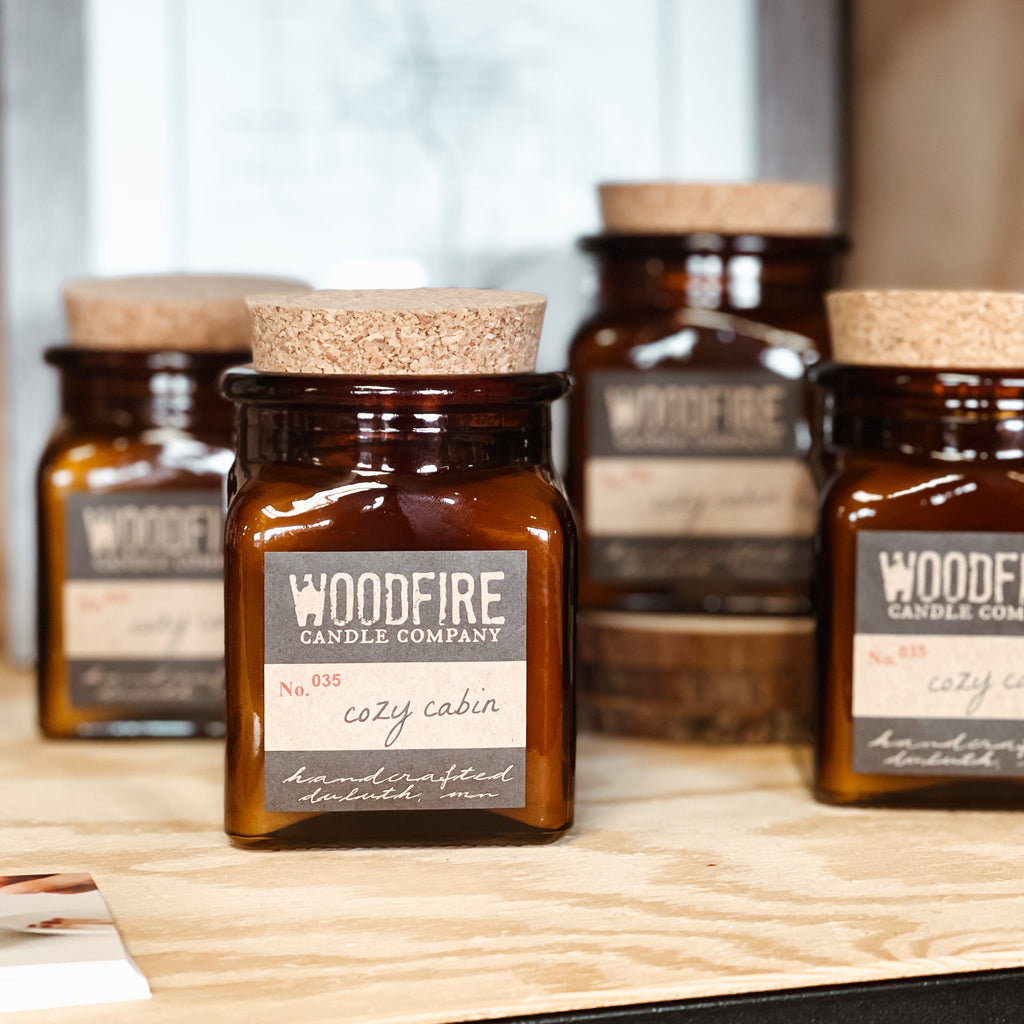 $ 24.00
Amber Apothecary Wood Wick Soy Candle
Experience the captivating warmth of our amber apothecary wood-wick soy candle! Our signature blend of rustic modern style and cozy warmth creates a captivating atmosphere that's perfect for any occasion. Feel the soft flicker of a wooden wick and be inspired by the soothing amber scent. Let your senses take you away!
Woodfire candles are made of 100% American-grown soy wax combined with a soft fruitwood wick and premium fragrance and essential oil blends. They are sure to add a warm rustic ambiance to any home. Wood wicks crackle as they burn for a lovely nestled-by-the-fire feel. 
The amber apothecary collection comes beautifully packaged in a heavy amber glass apothecary jar topped with a cork and a hand-stamped cotton bag (retail orders only). Once you've enjoyed your candle to the end of its life, simply wash your jar with soap and water to reuse. 
8.5oz will burn for approximately 40 hours.
Please see menu for scent choices. 
*Always trim your wood wicks to 1/8" and remove black char before each burn.